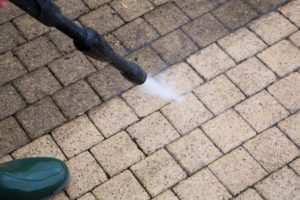 With winter in full swing outdoor areas are becoming slippery when wet due to build up of mold. For hotels, restaurants and other hospitality Businesses especially, this is bad news as this can become hazardous to clients and staff alike. If your public areas are showing signs of dirt build up, here's what pressure washing can do to help... This is why pressure washing for businesses is the best choice.
Why pressure wash walking areas?
Firstly patios, paths and walkways with stains, moss and algae don't present an attractive image, which is vitally important if it is the forefront of the Business where customers will gauge their first impression.
Secondly, build up of moss, algae and grime can cause slippery areas causing a fall and/or injury which could lead to compensation claims, damage to the property therefore tarnishing stature within the locality.
These issues can be resolved simply by using commercial services like ourselves to ensure the best possible work is carried out by proffesional trained staff operating high grade equipment.
Time and convenience?
We can carry out the work whenever suits, we can work around opening and closing times however suggest daylight hours to ensure an optimised result hence most commercial work is carried out in the summer. This enables dirt and debris from the winter to be cleared as a result, also speeding up drying time.
Regularity of pressure washing?
We recommend once or twice a year, once during summer months when outdoor areas such as hotels and restaurants are most in use and possibly in the winter months where build has been severe, to reduce the chance of injury.
We can operate out of hours, so just let us know what best suits you business.
Find out more at our services page or contact us for more information and a visit to estimate best time and operational longevity.