Driveway Cleaning and the pitfalls
The following article will examine the benefits of having your driveway cleaned and why a well maintained drive can add value to your property. For visitors the first impressions are usually the driveways and 9 times out of 10 its at the front of the house. Another reason for ensuring your driveway is kept up to scratch is safety. Finally the life cycle of the driveway is an extremely important factor when considering a driveway cleaning service. These factors will be explored further in the article.
Due to its nature of cars passing over it, an unusual amount of grime can build up and cause damage leading to expensive repair bills. Its easy for external cleaning chores to build up and be left undone, its usually last on the list of priorities. Leading to some serious strain when faced with the daunting task of driveway cleaning.
Driveway Cleaning giving you more bang for your buck
Firstly, adding value to a property driveway cleaning and external cleaning in general is a fantastic method of increasing curb appeal for any property. External cleaning utilises what the property already has and brings it back to its original state, meaning lower costs with higher return.
Improving curb appeal is vital when selling a property, a house can be sold or left even before a potential client has walked through the door. So to improve the chances of selling a property, the first stop should always be external cleaning.
Examples of external cleaning are:-
Driveways and Safety
When unkempt, driveways can become hazardous. Once algae and moss form on a driveways it can can cause warping and lifting. Especially evident in block paving, when growth happens between the bricks and the sand. Damaged driveways soon become trip hazards, leaving the user susceptible to injury. After cleaning a driveways certain methods can be used to reduce the chances of a driveway being damaged, these are listed below:-
Re-sanding for block paving
Re-sealing for tarmac drives
Re-grouting on large slabs
Repair and re-seal for pattern concrete drives
Biocide treatment to reduce further growth
and much more
Less Damage, Less Repairs
Mentioned before there are proven methods to reduce the damage that a driveway incurs from the endless use it receives. Prolonging the life of the driveway so it will not have to be replaced as quickly. so repairs are reduced in the long run.
For example..
Below are a few examples of our work or click the link to below to view out gallery for a more extensive selection. Otherwise a look at our Youtube Channel. Further on are some of our testimonials that our clients have sent us.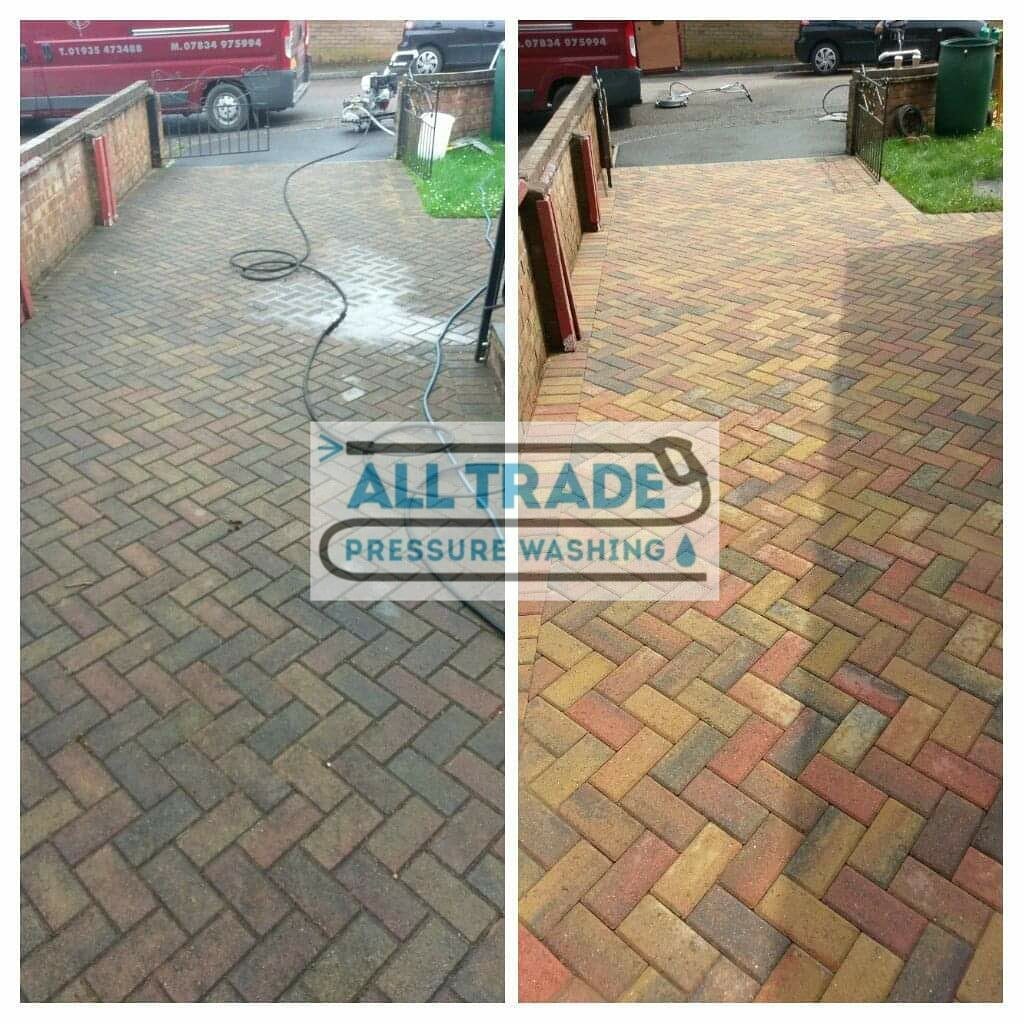 "The end result was even better than I expected and just in time for summer."

Rachel, Castle Cary
"I have used a domestic pressure washer before but it did not compare to what All Trade achieved. Fast, effective and brilliant"

Frank, Sherborne
"We used All Trade Pressure washing to clean our drive and back garden. When they were finished it looked like new."

Debbie and Julian, Yeovil
Risk free and No Hassle
If you have had enough of not having the time, energy or right equipment to clean your driveway, yet want to enjoy pulling in at your home with a pristine drive. Call the experts today to find out more.
Alternatively fill in the form Below and we will contact you.