Coronavirus and the Concern…
In light of current affairs regarding Coronavirus (Covid-19) and more importantly the 'lock down' on the nation, this article covers how pressure washing reduces the spread of the disease. Pressure washing is a proven and effective method of deep cleaning and sanitising exterior areas which will be explored in the following text.
We fully understand the emotions the current pandemic has stirred with health and well-being at the forefront of our minds. As we have all learnt over the last few weeks the Coronavirus is a very transferable and contagious disease. It can live on surfaces ranging from minutes to hours depending on the make-up of the surface. Hand washing has be promoted by our government to stop the spread. Exterior cleaning can also be a vital tool to reduce the amount of disease in an environment.
…The Benefit
Firstly pressure washing uses water jets that are pressurised to roughly 100-200 times more than the air around us. All Trade Pressure Washing use industrial petrol driven pressure washing equipment. The water jets run at 3 times the pressure of most domestic pressure washers. This gives the user up to 3000 pounds per square inch (psi) to removed unwanted dirt, stains or bacteria.
Putting this in to perspective, the water pressure needed to cut materials such as metal begin at 30,000 psi. Meaning our industrial machines are great at removing undesirable substances from any hard surface. Making it great for patios, driveways, paths, walls etc with those stubborn stains, that won't be removed with just water or standard chemicals alone.
Depending on the work in hand, Attachments can also be used to create an enhanced finish. An example of an attachment most used is an industrial deck cleaner. Applied on block paving, patios and driveways, this implement is fast and effective at bringing an area back to its former glory. Another advantage of using a deck cleaning is reduced back splash or "spray up" leaving less mess to tidy post job.
Turbo lance attachments are also used to focus the pressure of the jet into a single stream that rotates, boosting the cleaning power of the pressure washer giving a improved end result. In addition this attachment helps speed up the cleaning process, making it more efficient for our experienced operatives.
Government Standard
With this in mind, Pressure washing along with the use of chemicals such as hypochlorite, can remove the virus safely whilst leaving a pristine finish. Hypochlorite also known as Sodium hypochlorite works by oxidising, reacting then destroying many types of molecules including dyes. This is great for breaking down unwanted materials such as bacteria and disease. Thus, reduces the chance of spreading the virus further. After cleaning, the compound of the chemical falls apart into salt and oxygen leaving it harmless to its surroundings. (Hypochlorite should be used by trained operatives)
Most commonly used in milking parlours by dairy farmers, Hypochlorite is used to abide by stringent cleaning laws set by the UK government. This ensures our milk is safe to drink and free from disease.
Industrial pressure washing along with the use of hypochlorite removes grime, dirt and bacteria.
Meaning there is less of chance of the virus spreading further.
Giving users peace of mind at home or at work.
Not having the time, energy or right equipment is fully understand in times like these. Fortunately this is what we specialise in. For example of our work check out our gallery or Youtube Channel. In countries where the disease has already taken its toll the use of exterior cleaning can also be seen.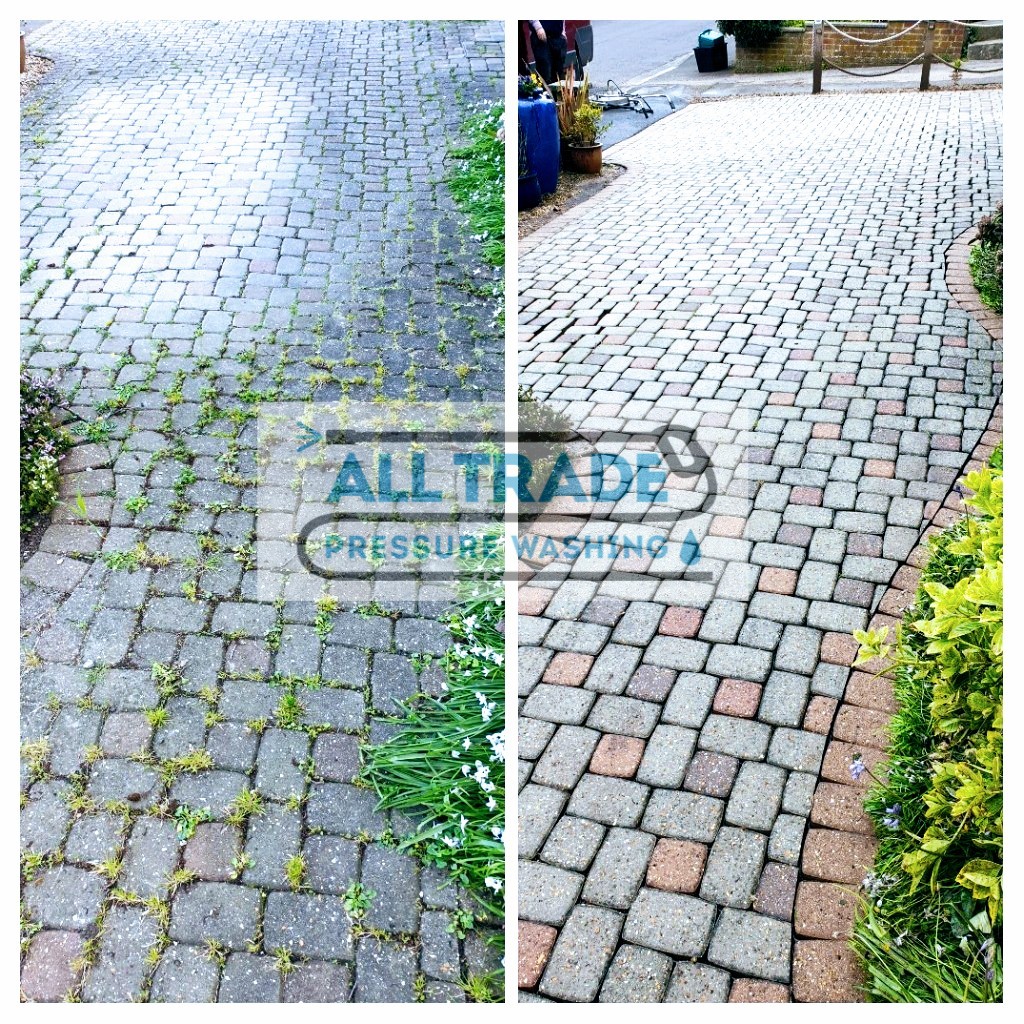 Coronavirus, Social Distancing and No Contact
Currently we are offering a 'contactless' or contact free service from the start ot finish. Following the laws set by the government and to enforce social distancing we have created a system that will allow us to complete the work without any personal contact. The process is as follows:-
We come to the property and assess the work needed to be completed. Then call to give the quote over the phone or via email.
Once quote is agreed, work commences without any personal contact.
When job and clean up is completed, we can take payment via bank transfer.
Enjoy your outdoor living space with peace of mind.
All Trade Pressure Washing are here to help you get through this troubling time. We are vigilant in following the guidelines regarding personal contact and social distancing. To maintain this we are constantly keeping up to date with the news and working laws. Therefore we pride ourselves on our in house training, specifically focusing of personal protection equipment (PPE). This can include but not limited to gloves and FFP2 face masks. To stop the spread of disease such SARS and flu these masks are used. The filtration in these masks stops droplets getting through.
For More Information
This article is just a snapshot of facts on how we can help you and your household or business. This is an unprecedented time and we will do any thing in our power to help and inform the general public. For more information on how we can help you to prevent the spread of this devastating virus and protect yourself, family and employees, click the link Below.
Alternatively Fill in the form below and we will be in touch.